VISHNOO PUJA
NARAYAN WORSHIP
Compiled by Jyotikar Pattni @ www.hanss.co.uk
©Copyrights 2007©
<![if !vml]>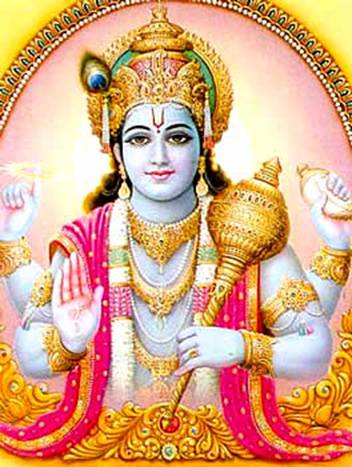 <![endif]>
It is stated by all our shastras that by undertaking Narayan worship one may overcome all sorrows in life. This worship has many forms. Best form is to invoke the Lord Vishnoo with Purshottam mantra, followed by Shree Narayana Suktam, followed by Shree Sukta, followed by Vishnoo Sahastranaamavali [1000 names of Vishnoo]. Benefits are highest especially when such worship is undertaken during the month of purshottam Maas. Offering of yellow, red and orange flowers to Vishnoo, one may offer thousand petals of carnations and pure whole rice grains [note – the rice grains must not be broken].
BEGIN BY PURIFICATION - Sprinkling rose water and Ganga jaal all over.
SANDHYAA SNAANAM JAPASHCHAIVA
DEVATAANAAMCHA POOJANAM |
VAISHVADEVAM TATHATITHYAM SHAT KARMAANI DINE DINE ||
Apavitra pavitra om apavitra pavitra va sarva vastham gato 'pi va yah smaret pundarikaksam sabhayabhyantarah ssuci
Aum sri visnu sri visnu sri visnu
Om Sarvebhyo Gurubhyo namah; Om Sarvebhyo Devebhyo namah
Om Sarvebhyo Braahmanebhyo namah
Achamanam:
Praarambha kaaryam nirvigna-masthu, Shubham shobhanamasthu,
Ishta devathaa kuladevathaa suprasannaa varadaa bhavathu.
(offer flowers, kumkum, agarbhatthi)
Anujnam dehi
Sip water of Ganga Jaal from the right hand - declaration of the intention to undertake Puja with clean heart, clean mind and clean divine intention
Om Keshavaaya swaahaa, Om Naaraayaanaya swaahaa, Om Maadhavaya Swaahaa, Om Govindaaya namah, Vishnave namah, Madhusoodanaaya namah, Tivikramaaya namah, Vaamanaaya namah, Sridharaaya namah, Hrishikeshaaya namah, Padmanaabhaya namah, Damodaraaya namah, Sankarshanaaya namah, Vasudevaaya namah, Pradyumnaaya namah, Anirudhdhaaya namah, Purushothamaaya namah, Adhokshajaaya namah, Naarasimhaaya namah, Achyuthaaya namah, Janaardanaaya namah, Upendraaya namah, Haraye namah, Shri Krishnaaya namah
Om pranavasya parabhrahma rishih paramaatmaa devathaa daivi gaayathri chandah, praanaayaame viniyogah. Om bhuh, Om bhuvah, Om swahah, Om maahah, Om janah, Om tapah, Om satyam, Om tatsaithur-varenyam bhargo-devasya dhimahi, dhiyo-yonah prachodayaath
(Repeat Aachamana )
Om apojyothi rasomritam, brahma bhur- bhuva-swarom
Prelude to Purshottam Vishnoo Pujan: This is to invoke all the Deities to bless our intention. One must meditate upon AUM and recite the shloka of AUM. Alternatively, one may recite AUM AUM AUM (thrice); then, first step  - Brief Ganesh pujan:
<![if !supportLists]>1. <![endif]>VAKRATUNDA MAHAAKAAYA
SOORYAKOTI SAMAPRABHA
NIRVIGHNAM KURUMEDEVA
SARVAKAARYESHU SARVADA

2. GAJAANANAM BOOTHA GANAATHI SEVITAM
KAPITTHA JAMBOOPHALA SAARA PAKSHITAM
UMA SUTAM SHOKA-VINAASHA KAARANAM
NAMAAMI VIGHNESHWARA PAADA PANKAJAM

3. AGAJAANANA PADMAARKAM
GAJAANANAM AHARNISHAM
ANEKADANTAM BHAKTAANAAM
EKADANTAM UPAASMAHE

4. MOOSHIKA VAAHANA MODAKA HASTA
SHYAAMALA KARNA VILAMBITA SOOTRA
VAAMANA ROOPA MAHESHWARA PUTRA
VIGHNA-VINAAYAKA PADA NAMASTE

5. EKADANTAM CHATURHASTAM
PAASHAMAM KUSHADHAARINAM
RADANCHA VARADAM HASTAI
VIBHRAANAM MOOSHAKA-DHWAJAM
6. OM GANAANAANTVAAM GANAPATIM HAVAAMAHE
KAVIN-KAVEENAAM UPAMASHRA VASTAMAM
JYESHTARAAJAM BRAHMANAAM BRAHMANASPATA
AANA-SHRINVAN-NOOTIHBHI SEEDHA SAADHANAM
OM MAHA GANAPATHAYE NAMAH
7. OM EKADANTAAYA VIDMAHE
VAKRATUNDAAYA DHEEMAHI
TANNO DANTI PRACHODAYAAT
8. Vighneshvaraaya Varadaaya Surappriyaaya
Lambodaraaya Sakalaaya Jagadwitaaya
Naagaananaaya Shrutiyagna Vibhooshitaaya
Gauri-sutaaya GaNanaatha Namo Namaste
9. Om Srimaan Maha-Ganaa-dhipathaye namah, Sri Gurubhyo namah, Sri Saraswathyey namah, Ishta devathaa-bhyo namah, Kula-devathaa-bhyo namah, Sthana-devathaa-bhyo namah, Grama-devathaa-bhyo namah, maathaa pitrubhyaam namah, Shukl-aambara-dharam devam, shashi-varnam chatur-bhujam  Prasanna-vadanam dhyayeth, sarva vignopa-shaanthaye
Sarva-mangala maangalye, Shive sarva-artha saadhike
Sharanye tryambake devi, Naaraayani namosthuthe
Narad-Ashtha-Ganesh Shloka
Sree Ganeshaya namah Naraada uvachaal. Prannamya shirasaa devamm gauree putramm vinaayakamm -- bhaktaa vaasam smaren.h nityamm aayuhh kaama artha siddhayeh. 1
Prathamamm vakratunnddamm cha eka danttamm dvitiyakamm trritiiyamm krrishnna pi-ngakshhamm gaja vaktramm chatturrthakamm. 2
Lambodaramm panchamamm cha shhasshhtthamm vikattameva cha saptamamm vighna raajendraamm cha dhuumra varnnamm tatha ashhtamamm. 3
Navammam bhaalachandramm cha dashamamm tu vinaayakam ekaadasham gannapatimm dvaadashamm tu gajaananamm.      4
Dwaadasaitaati naamaani tri sanmdhyamm yahh patthenn.h narahh na cha vighna bhayamm tasya sarva siddhikaramm prabho.     5
Vidyaarthii labhate vidyamm dhanaarthii labhate dhanaamm putraarthii labhate putraan.h mokshhaarthi labhate gatimm.          6
Japed.h Gannapatistotramm -- shhaddbhir.h maasaihh phalamm labhet.h sammvatsarenna siddhimm cha labhate natra sammshayahh.        7
Ashhttabhyo braahmannebhyashcha  likhitvaa yahh samarpayet.h -- tasya vidyaa bhavet.h sarvaa ganneshasya prasaadatahh. 8
Itti shree narad purani, sankashta nashanamm – naaman shree ganapattti stotram sampurnnanam
Second step - Cosmic Vastu Pujan:
Nava-Graha Shantih Pujan:
Peace mantra for nine planets/ Navagraha Stotra-Mantra
Navagraha Stotras are believed to pacify the planets and protect the reciter from the evil effects of the planets. In Sanskrit, "Nava" means Nine and "Graha" means planet. Navagraha Stotras are therefore stotras for the nine planets. In Vedic Astrology, Moon, Rahu and Ketu are considered planets.
For the nine planets
<![if !vml]>

<![endif]>
aadityaaya somaaya maNgalaaya budhaaya cha |
guru shukra shanibhyashcha raahaveketave namaH ||
Salutations to the navagrahaas, the Sun, Moon, Mars, Mercury, Jupiter, Venus, Saturn, Rahu, and Ketu.
Aum hreem hraum Suryayeh Namah; Aum hreem shreem Chandraya namah; Aum eim hreem shreem Mangalayeh namah; Aum aim streem Bam-Budhayeh namah; Aum hreem brahm brahaspattayeh namah; Aum hreem shreem Shukrayeh namah; Aum hreem shreem Sam-Sanneshcharayeh namah; Aum Eim Hreem Rahuvey namah; Aum eim hreem Ketuveh namah.  
Aum Brahmah-Murari-Tripurarntakari-Bhanuh-Shashih-Bhumih-Suttau-Budhasscha-Gurusscha-Shukrah-Shanih-Rahuh-Ketuh-Sarva-Graha-mama Suprabhanttam-Kuru-me-Shantih Shantih  Su-Shantih.
Offering of Peace mantra to the three worlds (terrestrial, spiritual and the celestial):
Aum Bhuhr Bhurvah Svahr Aum Tat Savitur Varenyam Bhargo Devasya Dhimahi Dhiyo Yo Naha Prachodayyatt. Aum Tat Sat Swaha.
Hari Aum Tat Sat Swaha.
Gayatri mantra – Surya Arga 11 times:
Aum Bhuhr Bhurvah Svahr Aum Tat Savitur Varenyam Bhargo Devasya Dhimahi Dhiyo Yo Naha Prachodayyatt. Aum Tat Sat Swaha.

MahaMrityunjaya Mantra 11 times:
Aum Trryambhakam Yajamahe
Sugandhim Pushtivardhanam
Urvarukamiva Bandhanan
Mrityor Mukshiya Maamritat
Durga Stotra thrice:
"Yaa devie sarvabhuuteshhu maatru roopineh sansthitaah.
yaa devie sarvabhuuteshhu shakthi roopineh sansthitaah
yaa devie sarvabhuuteshhu shaanti roopineh sansthitash
namastasyaih namastasyaih namastasyaih namo namaha"
Aum laxshmee, Kali, Saraswatty, karatu kalyanam.
Cosmic puja
Aum Indrayeh namah, Aum Agneeyeh namaha, Aum Vayuveh namah, Aum Yamayeh namah, Aum nirrittayeh namah, Aum vasus, Aum Vanaspattayeh namah, Aum Vishvadevayeh namah, Aum sarwa Nakshatrayeh namah, Aum sarwa Rashiyeh namaha, Aum Kubera, Aum Vam Varunayeh namah, Aum Ish-Ishanayeh namah, Aum Rudrayeh namah, Aum Som Somayeh namah, Aum Sham Shivayeh namah. Aum sarva lokayeh namah.
Aum Kull devta bhyou namah
Aum Sarve pittree Bhyou namah
Aum Matre-Pitre bhyou namah
Aum Guru Brahaspattey namah
Aum Sri Guruvey namah
Aum sri Hanumanthaye namah
Aum shantih
Swasti Vachannamm once:
Om Swati No Indro Vrudhashavaha |
Swasti Naha Pusha Vishvavedaha |
Swasti Nastakshwau Arishtanemihi |
Swasti No Bruhaspatirdadhatu |
|| Om Shantihi Shantihi Shantihi ||
THEN RECITE THE Vishnu Stuti

Shaantaakaaram Bhujagashayanam Padmanaabham Suresham
Vishvaadhaaram Gagansadrasham MeghavarNam Shubhaangam
Laxmikaantam Kamalanayanam Yogibhirdhyaanagamyam
Vande Vishnu Bhavabhayaharam Sarvalokaikanaatham
Followed by: part one puja
PART ONE: NARAYANA SUKTAM - HYMN ON LORD NARAYANA
Narayan Purrshottam mantra: These mantras must not be recited with bad intentions and one must purify one's self before recital. To purify one must sprinkle ganga jaal in four directions and over the head and all over the body. Reciting the jaal sudhi mantra of Vishnoo, we let the water from the kalash upon which the coconut is placed to gently fall over puja tray. We have not gone at length to elucidate the kalash pujan as this is very detailed. Those interested can follow the KUMBH PUJAN LINK. It is best to put the following items in the KALASH of either brass or silver (alternatively copper): COINS, PINCH OF SAFFRON, FLOWER, KUMKUM, BEETLENUT, PIECE OF NADA-CHADI, HARDI, GANGA, ROSE WATER, PINCH OF PANCHAMRAAT, PINCH OF CANE SUGAR.
Aum Dhyayeh sada Savitreemandala Madhyavarti Narayanayeh Sarasijasana Sannivista Keyurvan Makar-Kundala-Van Kiriti Hari Hiranmayayavapurdhrita Ssankhahcakrah
Aum Namoh Narayanayeh Aum Vishnavey Namah
Hari Aum Tat Sat Swaha.
Aum Vishnavey namah Aum Vishnavey namah Aum Vishnavey namah
Aum Narayanayeh vidhmahi Vasudevaya dhimahi tanu Vishnoo Prachodayatt;  Aum Tat Sat Swaha.
Aum namoh narayanayeh;
Aum hleem sleem kleem Laxshmee-Narayanayeh namah swaha
Aum hreem shreem kreem Surya-Narayanayeh; Aum Namoh Narayanayeh Swaha.
Aum Namoh Vishnave Surapataya MahaBalaya Swaha; Aum Namoh Vishnave Surapataya Dhanadaya Swaha; Aum Namoh Bhagavatey Vasudevaya; Aum Namoh ParamAtmanayeh swaha; Aum Namoh Brahmaney swaha
THEN NEXT STEP IS NARAYANA SUKTA - HYMN ON LORD NARAYANA
Sahasraa sersham devam viswaasham viswaasambhuvam
viswam naaraayanam devamaksharam pramam padam
This universe is the Eternal Being (Narayana), the imperishable, the supreme, the goal, multi-headed and multi-eyed (i.e., omnipresent and omniscient), the resplendent, the source of delight for he whole universe.
Viswataah paramam nityam viswam naaraayanam hariim
viswaamevedam purushaastadvisvampajeevati
This universe is the Supreme Being (Purusha) alone; hence it subsists on That, the Eternal which transcends it (in every way), -the omnipresent Absolute which destroys all sins.
Patim viswasyatmeswaram saswatam sivamachyutam naaraayanam mahaajneyam viswaatmanam paraayanam
The protector of the universe, the Lord of all Souls (or Lord over Self), the perpetual, the auspicious, the indestructible, the Goal of all creation, the Supreme object worthy of being known, the Soul of all beings, the Refuge unfailing (is He).
Naaraayanaa paro jyotiratma naaraayanaa pariah naaraayanaa param brahmaa tattwam naaraayanaah pariah naaraayanaa paro dhyaatah dhyaanam naaraayanah pariah
The Lord Narayana is the Supreme Absolute; Narayana is the Supreme Reality; Narayana is the Supreme Light; Narayana is the Supreme Self; Narayana is the Supreme Meditator; Narayana is the Supreme Meditation.

Yachca kinchit jagat sarvam drshyate srooyatepi va antar bahisca tatsvaram vyapya naaraayanaah sthitah
Whatever all this universe is, -seen or heard of, -pervading all this from inside and outside alike, stands supreme the Eternal Divine Being (Narayana).

Anantamavyayam kavim samudrentam viswaa ssambhuvam padma kosaa praateekssam hrrdayam ccapyadho mukham
He is the Limitless, Imperishable, Omniscient, residing in the ocean of he heart, the Cause of the happiness of the universe, the Supreme end of all striving, (manifesting Himself) in the ether of the heart which is comparable to an inverted bud of the lotus flower.

Adho nishtya vitastyante nabhyaamupari tishtati jwaalamalaa kulaam bhaati vishwasyayatanam mahat
Below the Adams apple, at a distance of a span, and above the navel (i.e., the heart which is the relative seat of the manifestation of Pure Consciousness in the human being), effulges the Great Abode of the universe, as if adorned with garlands of flames.
Santaatam silaabhistu lambaatyaa kosaannibham tasyante sushiram sookshman tasmin sarvam pratishtam
Surrounded on all sides by nerve-currents (or arteries), suspends the lotus-bud of the heart in an inverted position. It is in a subtle space (a narrow aperture, the Sushumna-Nadi), and therein is to be found the Substratum of all things.

Tasyaa madhye mahaanagnir vishwachir visvato mukha sograabhugvibhajan tishthannahaaraa maajaraah kaavih
In that space within the heart resides the Great Flaming Fire, undecaying, all-knowing, with tongues spread out in all directions, with faces turned everywhere, consuming food presented before it, and assimilating it unto itself.

Triyaa goordhwaa masdhassayee rasmayaatasyaa santataa santapayati swam deha mapadatalaamaastaagah tasyaa madhye vahnisikha aaneeyordhwaa vyaavasthithaah
His rays, spreading all around, side ways as well as above and below, warm up the whole body from head to foot. In the center of That (Flame) abides the Tongue of Fire as the topmost of all subtle things. (Note: Due to the attachments and entanglements of the Jiva in worldly enjoyment and suffering, the Consciousness is enshrouded in potential as well as expressed objectivity, and hence it appears like a tiny streak of flame within the dark clouds of ignorance. But when the Jiva rises above worldliness the Consciousness is realised as he Infinite.)

Neelaatoyaada madhyaasthad vidyullekhavaa bhaswaraa neevaaraasooka vattanvee peeta bhaswatyanoopama
Brilliant like a streak of lightning set in the midst of the blue rain-bearing clouds, slender like the awn of a paddy grain, yellow (like gold) in colour, in subtlety comparable to the minute atom, (this Tongue of Fire) grows splendid.

Tasyaa sikhayaa madhye paramaatmaa vyavasthithaah saa brahmaa saa sivaah saa hariih sendraah soksharaah paramah swarat
In the Middle of That Flame, the Supreme Self dwells. This (Self) is Brahma (the Creator), Siva (the Destroyer), Hari (the Protector), Indra (the Ruler), the Imperishable, the Absolute, the Autonomous Being. Prostrations again and again to the Omni-Formed Being, the Truth, the Law, the Supreme Absolute, the Purusha of blue-decked yellow hue, the Centralised-Force, Power, the All-Seeing One.

Ritam satyam param brahmaa purusham krishnaa pingalam
oordhwaaretam viroopaaksham viswaroopaayaa vai namo namah
Prostrations again and again to the Omni-Formed Being, the Truth, the Law, the Supreme Absolute, the Purusha of blue-decked yellow hue, the Centralised-Force, Power, the All-Seeing One.

Aum naaraayanayaa vidhmahe vasudevaayaa dheemahi tanno vishnuh prachodayaat
We commune ourselves with Narayana, and meditate on Vasudeva, may that Vishnu direct us (to the Great Goal).

Vishnoorrnukam veeryaani pravocham yaah paarthivaani raajaamsi yo
askabhayaaduttaram sadhastham vichaakramanas tredhorugayo vishnuh
raaratamasi vishnuh syooraasi vishnuh dhruvamsi vaishnavaamasi vishnave tva
Which valor and deed of the all-pervading Vishnu may I glorify? He has enveloped the earth and he heaven even upto the minutest dust of creation. Vishnu supports the abode of gods, preventing it from being shaken from its position. He takes three strides (which may mean the three strides which Vishnu took in His incarnation as Vamana or the three strides which the sun is supposed to take in the sky during the day, or he form Vishnu is supposed to take as Agni, Vayu and Surya) as the most gloriously euoligised one. O Thou, Instrument of Yajna, who are the front and rear of Vishnu's form as Yajna, Thou who art its mouth and its connection. Thou art the firm support. Thou art verily Vishnu. I prostrate myself before Thee.

Om shanti shanti shantih
Om. May there be Peace, Peace, Peace
For those of you who are interested in the detailed VISHNU STOTRAM as depicted by the Shree Vishnu Temple in India, Nadiad, please follow the following link:
Vishnu Stotram
http://www.santram.org/bhajan/VishnuStotram.htm
Part two - Sri sukta
TRANSLATION BY SRI SWAMI SIVA-ANANDA with the permission of Nadiad Temple.
Srim Hiranya varnám harinim suvarna-rajata-srajám
Chandrám hiranmayim lakshmim jatavedo ma avaha|(1)
Hrim Tám ma ávaha játavedo lakshmim anapa gáminim
Yasyám hiranyam vindeyam gám asvam purushán aham|| (2)
1-2) Invoke for you O Agni, the Goddess Lakshmi, who shines like gold, yellow in hue, wearing gold and silver garlands, blooming like the moon, the embodiment of wealth. O Agni! Invoke for me that unfailing Lakshmi, blessed by whom, I shall win wealth, cattle, horses and men.
Klim Ashwa-purvám ratha-madhyám hasti náda prabódhiním
Shriyam devím upahvaye shrír ma devír jushatám| (3)
Aim Kám sósmitám hiranya prákárám árdrám jvalantím triptám tarpayantím
Padme sthitám padma-varnám támihópahvaye shriyam|| (4)
I invoke Shri (Lakshmi, who has a line of horses in her front, a series of chariots in the middle, who is being awakened by the trumpeting of elephants, who is divinely resplendent. May that divine Lakshmi grace me. I hereby invoke that Shri (Lakshmi) who is the embodiment of absolute bliss; who is of pleasant smile on her face; whose lustre is that of burnished gold; who is wet as it were, (just from the milky ocean) who is blazing with splendour, and is the embodiment of the fulfillment of all wishes; who satisfies the desire of her votaries; who is seated on the lotus and is beautiful like the lotus.
Souh: Chandrám prabhásám yashasá jvalantím shriyam lóke deva justám udárám
Tám padminim-ím saranam aham prapadye' alakshmír me nasyatám tvám vrne| (5)
Om Aditya varne tapasó dhijátó vanaspatis tava vrikshó' tha bilvah
Tasya phalani tapsá nudantu mayántaráyás cha báhya alakshmíh|| (6)
I resort to that Lakshmi for shelter in this world, who is beautiful like the moon, who shines bright, who is blazing with renown, which is adored (even) by the gods, which is highly magnanimous, and grand like the lotus. May my misfortunes perish. I surrender myself to You, O resplendent like the Sun! By your power and glory, plants like the bael tree have grown up. may the fruits thereof destroy through the grace of all inauspiciousness rising from the inner organs and ignorance as well from the outer senses.
Hrim Upaitu mám deva-sakah kírtis cha maniná saha
Prádur bhutó' smi rashtre' smin kírtim riddhim dadátu me| (7)
Sriim Kshut pipásá-amalám jyesthám alakshmím náshayámy aham
Abhutim asamriddhim cha sarván nirnuda me grihat|| (8)
O Lakshmi! I am born in this country with the heritage of wealth. May the friends of Lord Siva (Kubera, Lord of wealth and Fame), come to me. May these (having take their abode with me), bestow on me fame and prosperity. I shall destroy the elder sister to Lakshmi, the embodiment of inauspiciousness and such evil as hunger, thirst and the like. O Lakshmi! Drive out from my abode all misfortunes and poverty.
Ka e í la Hrim Gandha dvárám durá dharshám nitya-pushtám karíshiním
Ishvarígm sarva bhutánám tám ihó pahvaye shriyam| (9)
Ha Sa Ka Hala Hrim Manasah kámam ákutím vácah satyam ashímahi
Pashunágm rupam annasya mayi sríh shrayatám yashah|| (10)
I hereby invoke Lakshmi (Shri), whose (main) avenue of perception is the odoriferous sense (i.e., one who abides mainly in cows); who is incapable of defeat or threat from anyone; who is ever healthy (with such virtuous qualities as truth); whose grace is seen abundantly in the refuse of cows (the cows being sacred); and who is supreme over all created beings. O Lakshmi! May we obtain and enjoy the fulfillment of our desires and our volitions, the veracity of our speech, the wealth of cattle, the abundance of varieties of food to eat! May prosperity and fame reside in me.
Sa Ka La Hrim Kardamená praja-bhutá mayi sambhava kardama
Sriyam vásaya me kule mátaram padma-máliním| (11)
Souh: Apah srijantu snigdháni chiklíta vasa me grihe
Nicha devím mátaram shriyam vásaya me kule|| (12)
(11-12) Lakshmi! You have progeny in Kardama. (Hence) O
Kardama, may you reside in me. Make Mother Shri with garlands of lotuses to have Her abode in my (ancestral) line. may the (holy) waters create friendship (they being of adhesive nature). O Chiklita (progeny of Shri)! Reside at my home; and arrange to make Divine Mother Shri stay in my lineage!
Aim Ardám pushkariním pushtim pingalám padma máliním
Chandrám hiran-mayím lakshmím játavedó ma ávaha| (13)
Klim Ardhám yah kariním yashtim suvarnám hema-máliním
Suryám hiran-mayím lakshmím játavedó ma ávaha|| (14)
Invoke for me, O Agni, Lakshmi who shines like gold, is brilliant like the sun, who is powerfully fragrant, who wields the rod of suzerainty, who is the form of supreme rulership, who is radiant with ornaments and is the goddess of wealth. Invoke for me O Agni, the Goddess Lakshmi who shines like gold, blooms like the moon, who is fresh with anointment (of fragrant scent), who is adorned with the lotuses (lifted up by celestial elephants in the act of worship), who is the presiding deity of nourishment, who is yellow in colour, and who wears garlands of lotuses.
Hrim Tám ma ávaha játevedó lakshmím anapa gáminím yasyám
Hiranyam prabhutam gávó dásyó asván vindeyam purushan aham|| (15)
Invoke for me O Agni, that Goddess Lakshmi, who is ever unfailing, being blesses by whom I shall win wealth in plenty, cattle, servants, horses and men.
Srim Om mahá-devyai cha vidmahe, vishnu-patnaiya cha dhímahi
Tanno MAHA-Lakshmíh prachódayát || (16)
We commune ourselves with the Great Goddess, and meditate on the consort of Vishnu; may that Lakshmi direct us (to the Great Goal). Om May there be Peace, Peace, Peace.
Vishnoo Sahastranaamavali as adapted from the Sanatana Dharma Hinduism.
Sanskrit script courtesy: Shri.N. Krishnamachari: Ref: My Purohith
Take petals of red carnation with grains of rice and offer to Vishnoo's feet after each name uttering swaha.
So AUM [name] NAMAH
FOR VISHNOO SAHASTRANAMAVALI 1000 NAMES OF BHAGAVAN NARAYAN PLEASE REFER THE FOLLOWING LINK
http://www.hinduism.co.za/vishnu.htm
After each group of names, recite the following mantra 11 times:
Aum Narayanayeh Vidhmahe Vasudevaya dhimahi tannoo Vishnoo ParamAtmanayeh Prachodayyatt. Aum Tat Sat Swaha
AFTER THE VISHNU PUJAN, one must recite a bhajan or a poem for BHAGAVAN or God.
Followed by invocation to invite the BHAGAVAN FOR BHOG BHOJAN.
AARTI
JAAL PRADIKSHNA
FOLLOWED BY FOUR ROUNDS OF THE PUJA ALTAR – OTHERS TAKE 11 ROUNDS DEPENDING UPON ONE'S PERSONAL BELIEF.
AFTER PRADIKSHNA,
FINALLY WE RECITE THE SHANTIH PATHD.
Aarati (universal)
Aumm Jaya Jagadisha Hare Swami Jaya Jagadisha Hare
Bhakta Jano Ke Sankata Kshanamen Dur Kare
- Om Jaya
Hail to Thee, O Lord of the universe, Remover of sorrows
and Master of all! Salutations and prostrations unto Thee.

Jo Dhyaave Phala Paave Dukha Vinase Manakaa
Sukha Sampati Ghara Aave Kashta Mite Tanakaa
- Om Jaya

(O instant) Remover of the troubles of devotees! Thou
rewardest those who sing Thy glories and removest their
sorrows. With Thy name, happiness and prosperity dawn,
and pain disappears.

Maat Pitaa Tum Mere Sharana Gahun Kisaki
Tum Bin Aur Na Dujaa Aash karun Jisaki
- Om Jaya
O Lord, Thou art my mother, father and only refuge

Tuma Purana Paramaatmaa Tuma Antaryaami
Parabrahma Parameshvara Tuma Sabake Swami
- Om Jay
O Indweller of all beings, Thou art perfect, absolute,
omnipresent, omnipotent and omniscient.

Tuma Karunaa Ke Saagar Tuma Paalana Katrataa
Mei Sevaka Tum Swami Kripaa Karo Bharataa
- Om Jay
O ocean of compassion, Thou art the protector of all
O merciful Master, help me, who am Thy servant.

<![if !supportLineBreakNewLine]>
<![endif]>
Tum Ho Eka Agochara Sabake Praanpati
Kisa Vidhi Milun Dayaamaya Tuma Ko Mei Kumati
- Om Jay
O life of all lives, Thou art the only one and (still)
invisible O merciful Lord, guide ignorant beings to
Thy Divine Knowledge.

Deena Bandhu Dukha Harataa Tuma Rakshaka Mere
Karunaa Hasta Badhaao Sharana Padaa Tere
- Om Jay
Thou art the support (protector) of the weak (friend of
the weak or poor), the remover of sorrow and pain,
O my protector, bless me with Thy Compassionate
hand, I surrender to Thee.

Vishaya Vikaar Mitaao Paap Haro Devaa
Shraddhaa Bhakti Badhaao Santan Ki Sevaa
- Om Jay
Relieve me of passion and suffering (or imperfections
or vices), Bless me with ever increasing faith, Divine
love and spirit of service.
___________________________________
Kapur Aarati
Karpur gauram karunaa avataaram,
Sansaar saaram bhujgendra haaram,
Sadaa vasantam hridayaarvinde,
Bhavam Bhavaani sahitam namaami
I bow to that camphor-hued, white complexioned
(Lord Shiva), who is Incarnation of compassion,
Who is the very essence of (consciousness; the
Knowing principle) of life (of the embodied soul);
Who wears snakes as garlands, whose eternal abode
is in the heart of the devotee, I bow to Him (Lord
Shiva) and His consort Bhavaani (Uma or Parvati).
Mangalam Bhagawaan Vishnu
Mangalam Garuda Dhwaja
Mangalam Pundari Kaaksha
Mangalaaya Tanno Hari

Auspicious is Lord Vishnu;
Auspicious is He whose flag bears
the emblem of Garuda;
Auspicious is He who is lotus-eyed;
Hari is the abode of auspiciousness

Sarva Mangala Maangalye
Shive Sarvaatha Saadhike
Sharanye Trayambake Gauri
Naaraayani Namastute ( 3 )

O the most auspicious among those that are auspicious!
O the one that grants the fulfillment of all prayers!
O the one refuge of all!
To Thee (Lord Siva and to Thy consort (Parvati),
(known also as) Trayambaka (three eyed ) and Gauri;
To Thee, O Narayani, our salutations!
LINKS
http://youtube.com/watch?v=3BPHl_120gw
After we recite the aarti and kapur aarti, we give final homage to Vishnu's shaktee Laxshmee: This is a very dynamic poetry of Mata Laxshmee. Learn it. Ashtha-laxshmee stotra is one of the most powerful Bhavani stotras. Lord Shiva recited it during the Adhik Maasa.
Namastetu Mahaamaaye Shree peetthey Surpoojitey Shankha chakra gadaa hastey Mahaalakshmi Namostutey. 1
O Mahaamaya, abode of fortune who art worshipped by the Devas,
I salute Thee: O MahaaLakshmi, wielder of conch, disc and mace,
obeisance to Thee.
Namastey Garooda roodhey Kola asura bhayankari Sarva paapa harey Devi Mahaa Lakshmi Namostutey. 2
My salutations to Thee, Who rides the Garuda, and art a terror to Asura Kola: O Devi MahaaLakshmi remover of all miseries, my obeisance to Thee.
Sarvagyey Sarva-Varadey Sarva-dushta Bhayankaree Sarva-dukha harey Devi MahaLaxmi Namostutey. 3
O Devi MahaLakshmi who knows all, Giver of all boons, a terror to all the wicked, Remover of all sorrow, Obeisance to Thee.
Sidhee- Budhee pradey Devi, Bhakti Mukti pradaayanee,
Mantra-Moortey sadaa Devi, MahaLaxmi Namostutey. 4
O Devi, Giver of Intelligence and Success, and of worldly enjoyment and liberation, Thou hast always the mystic symbols
As Thy form, O MahaLakshmi, obeisance to Thee.
Aadi-Anta rahitey Devi, Aadi- Shakti Maheshwari, Yogajey Yogasambhutey, MahaaLakshmi namostutey. 5
O Devi, Maheshwari, without a beginning or an end, O Primeval Energy, Born of Yoga, O MahaLakshmi, obeisance to Thee.
Sthoola Sukshma Mahaa roudrey MahaaShakti Mahodayey
Mahaa paapa harey Devi, MahaLaxmi Namostutey. 6
O MahaLakshmi who art both gross and subtle, Most terrible, great Power, great prosperity, and great Remover of all sins, obeisance to Thee.
Padma Aasan Sthitey Devi, Para Brahma Svaroopini, Parmeshi Jagan Maatar, MahaLaxmi Namostutey. 7
O Devi, seated on the Lotus, who art the Supreme Brahman,
the great Lord and Mother of the Universe, O MahaLaxmi, obeisance to Thee.
Shvet Aambar dharey Devi, Nana Alankaara Bhooshitey,
Jagat Sthitey Jagan Matar, MahaLaxmi Namostutey. 8
O Devi, robed in white garments, and decked with various kinds of ornaments, Thou art the Mother of the Universe, O MahaLakshmi, and Obeisance to Thee.
MahaLakshmya ashtak Stotram, Yaha pathed Bhaktimaan naraha,
Sarva Sidhim Avaapnoti, Rajyam prapnoti  sarvada. 9
Whoever with devotion reads these eight Hymns of Goddess MahaLakshmi, composed in 8 stanza- Shalokas or mantras,
attains all sidhis and comforts of a kingdom.
Eka kale Pathen - nityam mahapapa vinashanam, Dvikalam yah Pathen - nityam Dhan - dhanya saminvatah. 10 Trikalam yah Pathen - nityam mahashatru vinashanam,
MahaLakshmir - bhaven - nityam prasanna varada subha. 11
Recital of ashtha-laxshmee stotra releases one from the bondages of karma, sins and wrongfulness provided one repents and asks for forgiveness. Reciting it again and again twice more will confer with wealth. Recital thrice will remove all enmities. Recital five times will bring highest blessings from MAHA laxshmee.
Finally, recite shantih mantras:
Swasti:
Om sarveshaam swastir bhavatu; Sarveshaam shantir bhavatu
Sarveshaam poornam bhavatu; Sarveshaam mangalam bhavatu
Sarve bhavantu sukhinah; Sarve santu niraamayaah
Sarve bhadraani pashyantu; Maakaschit duhkha bhaag bhavet
Meaning: Auspiciousness (swasti) be unto all; peace (shanti) be unto all;
fullness (poornam) be unto all; prosperity (mangalam) be unto all. May all be happy! (sukhinah) May all be free from disabilities! (niraamayaah)
May all look (pashyantu)to the good of others! May none suffer from sorrow! (duhkha)
Om bhadram karnebhih shrunuyaama devaah; Bhadram pashyemaakshabhiryajatraah; Sthirairangaistushtuvaamsastanoobhih
Vyashema devahitam yadaayuh; Swasti na indro vridhashravaah
Swasti nah pooshaa vishwavedaah; Swasti nastaarkshyo arishtanemih
Swasti no brihaspatir dadhaatu; Om shantih, shantih, shantih!
Meaning:
Om, O worshipful ones, may our ears hear what is good and auspicious! May we see what is auspicious! May we sing your praise, live our allotted span of life in perfect health and strength! May Indra (who is) extolled in the scriptures, Pushan, the all-knowing Trakshya, who saves from all harm, and Brihaspati who protects our spiritual lustre, vouchsafe prosperity in our study of the scriptures and the practice of the truths contained therein! Om peace, peace, peace!
Om asato maa satgamaya; Tamaso maa jyotir gamaya
Mrityor maa amritam gamaya
Meaning: Lead us from the falsity to virtue; From darkness to Light
From mortality to Immortality
Aum poornamadah poornamidam; Poornaat poornamudachyate
Poornasya poornamaadaya; Poornamevaavashishyate
Meaning: That (pure consciousness) is full (perfect); this (the manifest universe of matter; of names and forms being maya) is full. This fullness has been projected from that fullness. When this fullness merges in that fullness, all that remains is fullness. - Peace invocation -Isa Upanishad
Om sham no mitrah sham varunah sham no bhavatvaryamaa
Sham na indro brihaspatih sham no vishnururukramah
Namo brahmane namaste vaayo twameva pratyaksham
Brahmaasi twaameva pratyaksham brahma vadishyaami
Tanmaamavatu tadvaktaaramavatu Avatu maam avatu vaktaaram. AUM Shantih shantih shantih!
Meaning: May Mitra, Varuna and Aryama be good to us! May Indra and Brihaspati and Vishnu of great strides be good to us! Prostrations unto Brahman! (Supreme Reality). Prostrations to Thee, O Vayu! Thou art the visible Brahman. I shall proclaim Thee as the visible Brahman. I shall call Thee the just and the True. May He protect the teacher and me! May he protect the teacher! Om peace, peace, peace!
Om dyauh shaantih Antariksham shantih; Prithivee shaantih Aapah shaantih
Oshadhayah shaantih Vanaspatayah shantih; Vishvedevaah shaantih Brahma shantih; Sarvam shaantih Shaantireva shantih; Saamaa shaantiredhih Om shaantih, shaantih, shaantih!
Meaning: May peace radiate there in the whole sky as well as in the vast ethereal space everywhere. May peace reign all over this earth, in water and in all herbs, trees and creepers. May peace flow over the whole universe. May peace be in the Supreme Being Brahman. And may there always exist in all spheres peace and peace alone. Aum peace be to the celestial world, peace be to the spiritual world and peace be to the terrestrial world.
AATMA SAMARPANA – Soul Salutations and obeisance to PEACE
Final declaration of PEACE being the NARAYANA atman.
Yasya smrithyaa cha naamnokthya, tapah, pooja, kriyaadishu
Noonam sampoornathaam yaathi sadyo vandey tam-achyutham
Manthraheenam, kriyaaheenam, bhakthiheenam Janaardhana
Yath-poojitham mayaa-deva paripoornam thadasthu mey
Anaya mayaa kritha shodashopachaara pujayaa Sri Siddhi Vinaayakah supreethah, suprasannah varado bhavthu. Madhye manthra, tanthra swara, varna nyunaathiriktha,lopa,dosha,praayaschiththaartham Achyuthaa-(A)nantha Govinda naama-thriya mahaa-manthra japam karishey
Om Achyuthaaya namah, Ananthaaya namah, Govindaaya namah
Om Achyuthaaya namah, Ananthaaya namah, Govindaaya namah
Om Achyuthaaya namah, Ananthaaya namah, Govindaaya namah
Achyutha-nantha-Govindebhyo namah
Kaayena vaacha manasendriyervaa, bhuddhyaathmanaa vaa prakritheh swabhaavaath
karomi yad yad sakalam parasmei Naaraayanaa yethi samarpayaami

KSHAMAAPANA – FORGIVENESS FOR IMPERFECT ERRORS
Aparaadha sahasraani kriyanthe aharnisham mayaa
thaani sarvaani me deva kshamaswa purushoththama
GachCha sathwam-Umaa-puthra, mamaanugraha kaaranaath
Poojithosi mayaa bhakthyaa, gachCha swasThaanakam praBho
(Shake the kalasha) Sri Krishnaarpanamasthu
For Pattni Connection © Copyrights 2007 © JYOTIKAR PATTNI © www.hanss.co.uk
FOR THOSE INTERESTED IN DETAILED VISHNU SAHASRANAMAM:
http://www.ecse.rpi.edu/Homepages/shivkuma/music/vishnu-sahasranamam-meanings.htm